General Surgeon & Minimally Invasive & Robotic Surgery located in West Los Angeles, Marina Del Rey, CA
Dr. Daniel Marcus is a leading general surgeon in Marina Del Rey and West Los Angeles that specializes in minimally invasive procedures, hernia repair, and robotic surgery. His number one priority is his patients and he never sacrifices care for the "Money before Healing" standard of care that so many physicians are forced to deal with. He learned his patient first approach from his father, who was an old-time family physician that served Los Angeles for over 30 years.
Dr. Marcus' outlook on patient care is unique. In college, he was diagnosed with cancer and understands the uncertainty and fear that come with needing surgery. This is why he takes the time and effort to present to patients and their families effective treatment options that will deliver the best recovery and outcomes. His extensive knowledge and experience with open, laparoscopic, and robotic surgeries provides his patients with the most treatment options.
Dr. Marcus received his undergraduate degree from UCLA, and his Doctor of Medicine from the Sackler School of Medicine in Tel Aviv, Israel. Following medical school, he completed his surgical residency at the world-renowned Albert Einstein/Montefiore Medical Center and Columbia Presbyterian in New York. He then completed his fellowship at the highly regarded University of Oregon. 
He helped establish the Robotic Surgical Program at Marina Del Rey Hospital, travels the world teaching other doctors how to perform robotic surgery, has authored several published papers and book chapters on minimally invasive surgery and developed instrumentation and procedures in both laparoscopy and robotic surgery that are used globally.
Dr. Marcus's extensive knowledge and experience, along with his dedication to practicing medicine on a case-by-case basis, means that he will develop a treatment plan that caters to your individual needs and circumstances.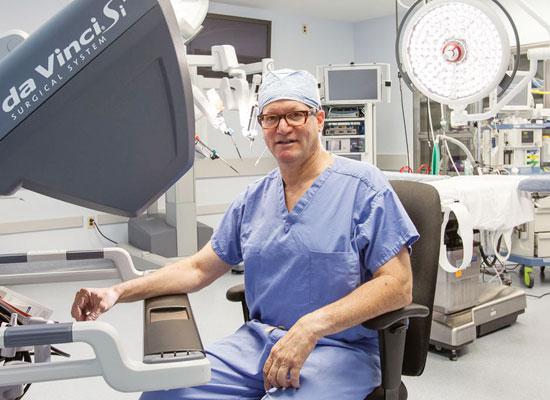 Cedar- Sinai Marina Del Rey Hospital
4650 Lincoln Blvd.
Marina Del Rey, CA 90292
310-823-8911
Providence Saint John's Health Center
2121 Santa Monica Blvd.
Santa Monica, CA 90404
(310) 829-5511
Southern California Hospital at Culver City
3828 Delmas Terrace
Culver City, CA 90232
(310) 836-7000